Syracuse University Again Named Fulbright Top Producing Institution
The U.S. Department of State's Bureau of Educational and Cultural Affairs on Feb. 10 named Syracuse University a Fulbright Top Producing Institution for U.S. students. This recognition is given to the U.S. colleges and universities that received the highest number of applicants selected for the 2022-23 Fulbright U.S. Student Program cohort.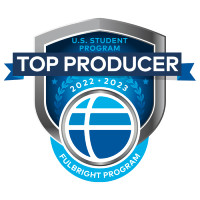 Ten students from Syracuse University were selected for Fulbright research, study and teaching awards for academic year 2022-23 to Austria, Colombia, Germany, Morocco, North Macedonia, Poland, Spain (two awards), United Kingdom and Uzbekistan.
You can read the full story in SU news here.